2023 Hermes Fine Jewelry Gift Ideas For Women
The iconic house of Hermès, renowned for its artisanal craftsmanship and timeless designs, has consistently enchanted us with their exquisite collections. As the festive season approaches and the quest for the perfect gift gains momentum, we delve into the captivating world of Hermès jewelry. Here's a closer look at our top 2023 Hermès Fine Jewelry gift ideas for women, each piece echoing the brand's dedication to elegance, artistry, and luxury.
Hermès, an iconic name associated with unparalleled luxury, quality craftsmanship, and elegance, has long been the go-to brand for discerning shoppers worldwide. While the French luxury brand is often synonymous with its timeless Birkin bags and signature silk scarves, Hermès Fine Jewelry deserves equal attention for its breathtaking designs and masterful artisanship.
If you're searching for an unforgettable gift for that special woman in your life, consider these exquisite Hermès jewelry pieces from their 2023 collection:
Hermès Chaine d'Ancre Collection
One of Hermès' most emblematic motifs, the Chaine d'Ancre, was inspired by a ship's anchor chain.
Crafted with the utmost precision, these drop earrings are set in exquisite yellow gold. The gold's warm, sun-kissed hue radiates an opulent glow, perfectly complementing the radiant sparkle of the carefully selected diamonds. The diamonds, set with impeccable artistry, act as luminous beacons, catching and reflecting light with every movement.
The drop design ensures a dynamic play of light and shadow, allowing the Chaine d'Ancre motif to dangle gracefully, adding a touch of sophistication and charm to any ensemble. Whether worn with a chic evening gown or a tailored business suit, these earrings promise to elevate your look, capturing attention and admiration.
Shop our: Hermès Limited Edition Chaine d'Ancre Yellow Gold Diamond Drop Earrings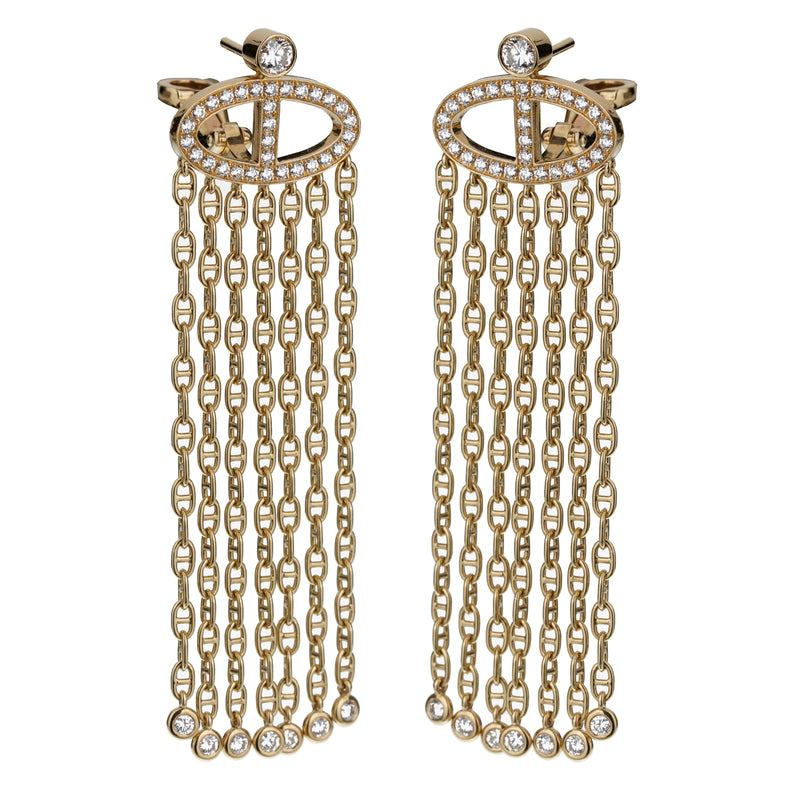 Hermès Chaine d'Ancre Yellow Gold Vintage Necklace
Step into the world of luxury with the Hermes Chaine d'Ancre Yellow Gold Toggle Necklace, a piece that perfectly encapsulates the brand's philosophy of elegance and sophistication. With a length of 16 inches and crafted from 77.3 grams of 18k gold, this necklace is a statement of affluence and superior craftsmanship. Circa 1960s.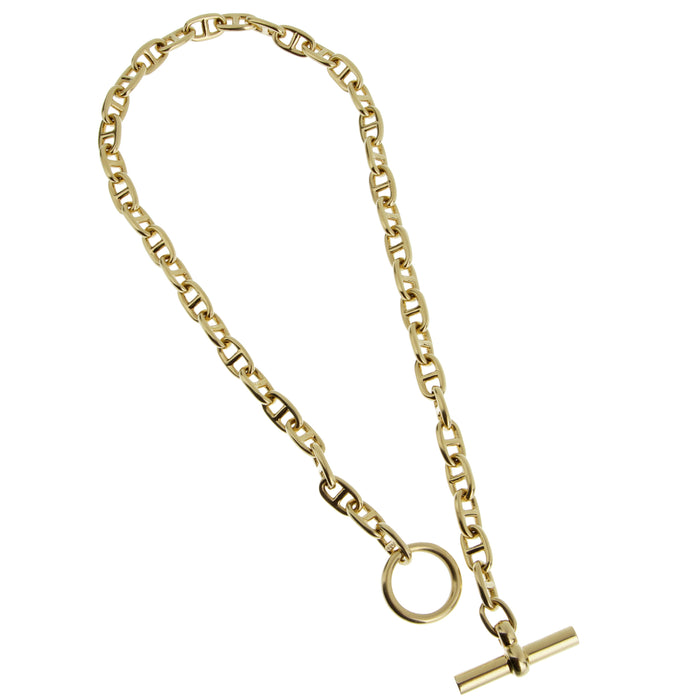 Shop our: Hermes Chaine d'Ancre 1960s Yellow Gold Toggle Necklace
Hermès Galop Collection
Celebrating the brand's equestrian heritage, the Galop collection features a distinctive horse hoof motif:
Galop Diamond Pendant Necklace: Featuring rose gold and exquisitely placed diamonds, this pendant is both understated and captivating.Measuring an impressive 27.5" in length with a 6" drop, this stunning necklace gracefully drapes around the neck, creating a statement piece that is both elegant and eye-catching. The warm, romantic hue of the rose gold adds depth and sophistication to the design, making it a versatile and stylish addition to any discerning jewelry collection.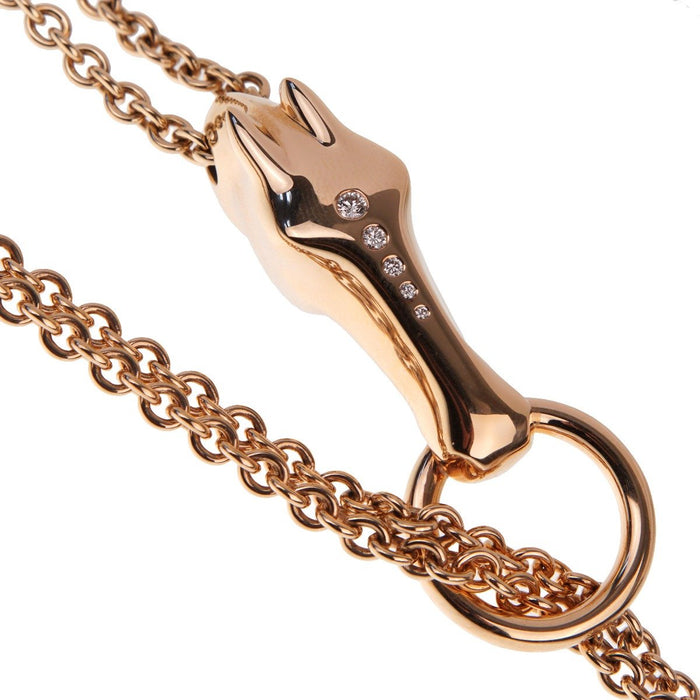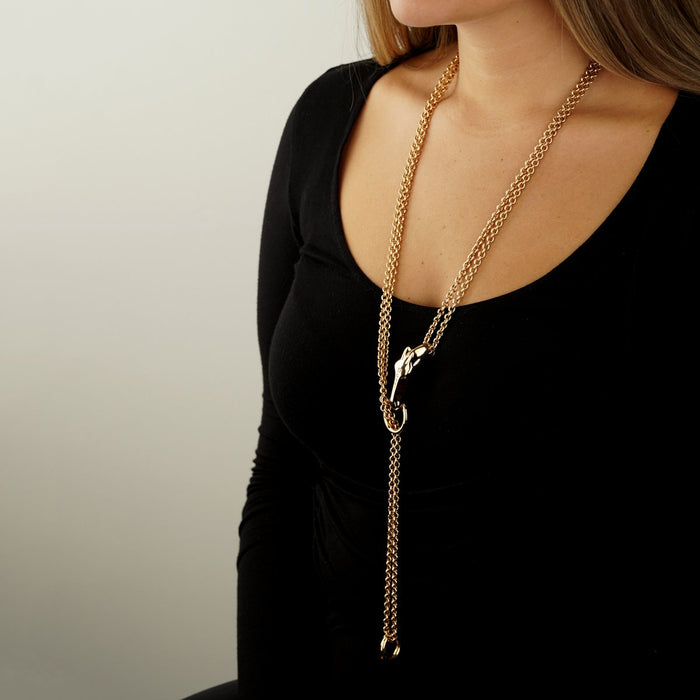 Shop our: Hermes Galop Rose Gold Diamond Necklace
Hermes Galop Diamond Ring: Hermes Silver Galop Limited Edition Fancy Diamond Ring, a breathtaking piece circa 2014 that embodies the exceptional craftsmanship and timeless elegance of the iconic French luxury brand, Hermes. This enchanting ring showcases a stunning array of 84 round brilliant cut champagne and brown diamonds, with a total weight of 1.37 carats, masterfully set in a luxurious sterling silver setting,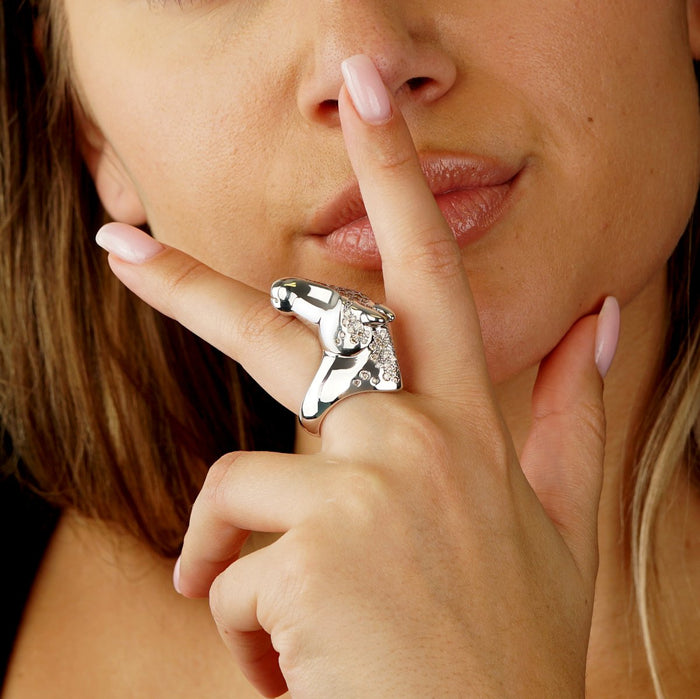 Shop our: Hermes Galop Horse Limited Edition Diamond Silver Ring
Bold Vintage Earrings: Featuring intertwined circles, these vintage earrings offer an edgy yet sophisticated look.The sugarloaf carnelian gemstones, celebrated for their deep, warm hues, create a mesmerizing focal point for the earrings. These carefully selected gemstones are expertly cut and polished, showcasing their natural beauty and vibrant color against the backdrop of the yellow gold setting.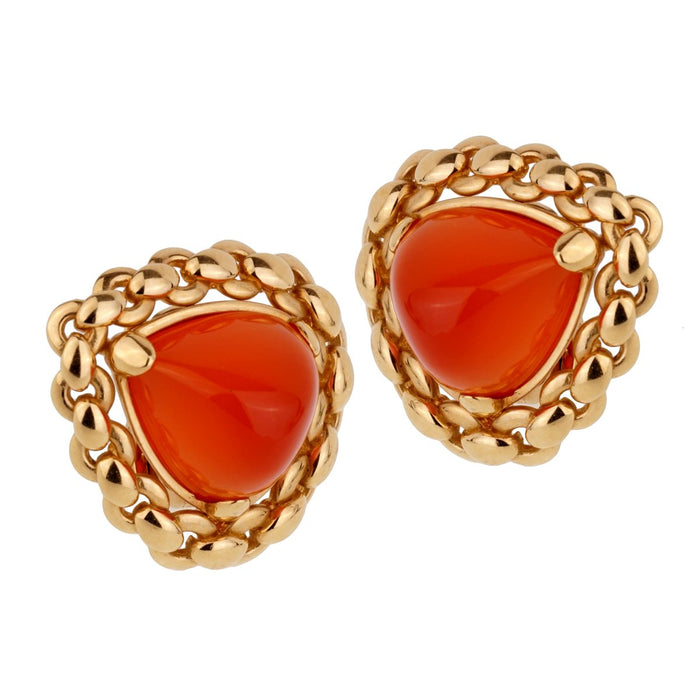 Shop our: Hermes Vintage Sugarloaf Carnelian Yellow Gold Earrings
Statement Chain Collar Necklace: A masterclass in design and artisanship, this piece is for the woman who wishes to make a statement. Looking to make a statement, this Hermes Long Chain Diamond Silver Choker Necklace boasts 10.88ct of fancy brown diamonds.
The 660 natural brown diamonds, carefully selected for their exceptional clarity and rich hue, are artfully arranged in an eye-catching design that captures and reflects light, creating a mesmerizing interplay between the gemstones and the silver setting.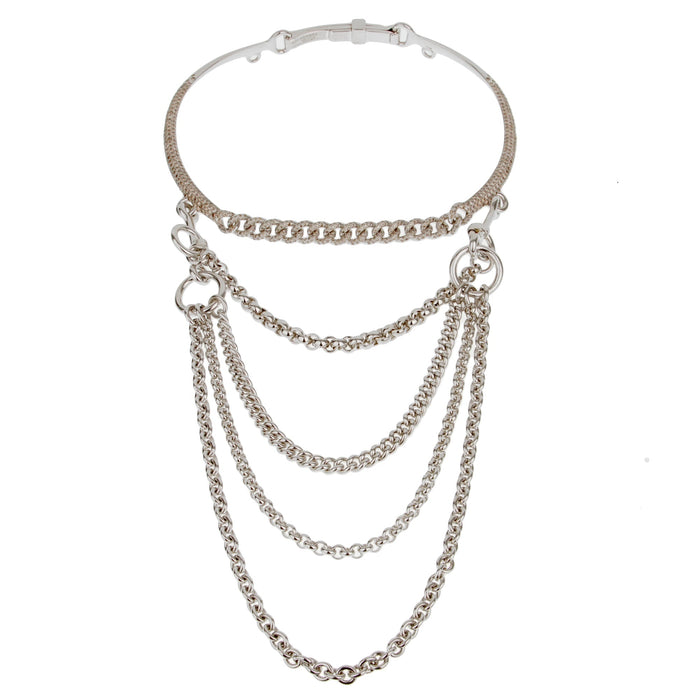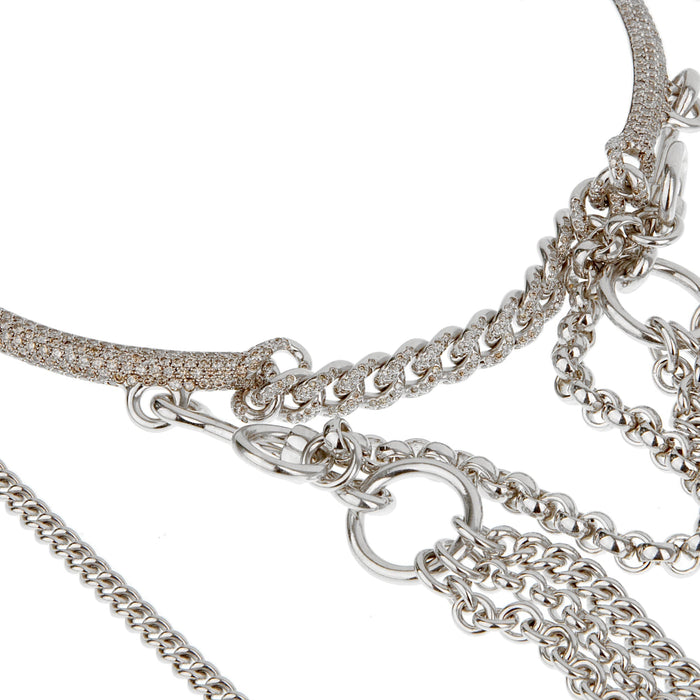 Shop our: Hermes Long Chain Diamond 10.88ct Silver Choker Necklace
Hermes Diamond Bracelets: Hermes Alchemie 4.73ct Diamond White Gold Bangle Bracelet
Hermès, renowned for its exquisite craftsmanship and unparalleled luxury, has always been at the pinnacle of the world of high fashion. Yet, beyond its iconic leather goods, Hermès High Jewelry holds a realm of wonder that is often the epitome of opulence and artistry. One such testament to this magnificence is the Alchimie collection. Drawing inspiration from the ancient craft of alchemy, the Alchimie collection effortlessly melds rare gemstones with visionary designs, conjuring a magic that only Hermès can master. Each piece from this collection is a journey of transformation, reminiscent of alchemists turning base metals into gold. Radiant diamonds, shimmering sapphires, and vivid gemstones come together in a dance of light and luxury, encapsulating the very essence of transformation and beauty. In the world of Hermès High Jewelry, the Alchimie collection stands as a beacon of both heritage and innovation, truly celebrating the brand's commitment to creating nothing short of masterpieces.
Shop our Hermes Alchemie 4.73ct Diamond White Gold Bangle Bracelet
Tips for Gifting Hermès Fine Jewelry:
Know Her Taste: Before purchasing, consider her personal style. Is she more inclined towards minimalistic designs or bold statement pieces?
Consider the Occasion: While any Hermès piece is fitting for any occasion, certain milestones might call for extra special attention, like the Chaine d'Ancre Punk Diamond Bracelet for a landmark anniversary.
Pair it Up: Consider gifting a matching set. If opting for the Galop Diamond Pendant Necklace, the Galop Hermes Diamond Earrings might be the perfect accompaniment.
Gifting Hermès fine jewelry is more than just presenting a luxurious item; it's bestowing a piece of art that tells a story of history, craftsmanship, and exquisite French design. Whether celebrating a birthday, anniversary, or simply expressing your love, a piece from Hermès' 2023 collection is bound to leave a lasting impression.