Five Ultra-Expensive Luxury Jewelry Boxes
For anyone who goes from buying fine jewelry to collecting it, proper storage is a necessity. When storing all those beautiful creations, having a box to aesthetically worthy of them is also a requirement. And for the serious collector or daydreamer, we've rounded up five of the most expensive jewelry boxes we could find, including antique, bespoke, designer to high-tech. (from least to most expensive).
Il Grande Scrigno Ebony Jewelry Armoire
This black beauty is handmade in Italy from polished black birdseye maple and Boubinga African hardwood. Standing 62" tall, this jewelry armoire packs in 23 drawers so not only will you have room for everything, you'll probably have trouble finding anything in there. 17 drawers have a variety of different compartments.
One of three medium drawers is fitted for watches and their are three large open storage drawers. The top had a standup mirror and several small compartments. Hanging rods also swing out to better hold necklaces and bracelets. It's lined with tarnish-free ultrasuede and uses nickel/palladium hardware. And it's actually a two-piece set and includes a matching travel jewelry box.
Hermes Chaine d'Ancre Jewelry Box
Box here we have another small jewelry box, but with completely modern aesthetics and branding. It's clean, quality finish is achieved with matte sycamore marquetry and mother-of-pearl.
The interior is lined with bosse red velvet goatskin. It includes two drawers and top tray compartment with mirror. The box top is decorated with Hermes' iconic Chaine d'Ancrepattern.While small at 13" x 23" x 9" it comes with a massive Hermes price tag.
Linley Highclere Castle Jewelry Box
Founded by David Linley in 1985, this British brand specializes in bespoke furniture, decorations, interiors, gifts, accessories and other special creations featuring their high design and craftsmanship. Their team has built up expertise in producing scaled down versions of famous architecture and landmarks. This example combines the functions of a jewelry box with Highclere Castle from Downton Abbey, one of England's most beautiful Victorian castles and most recently made famous by the TV show Downton Abbey.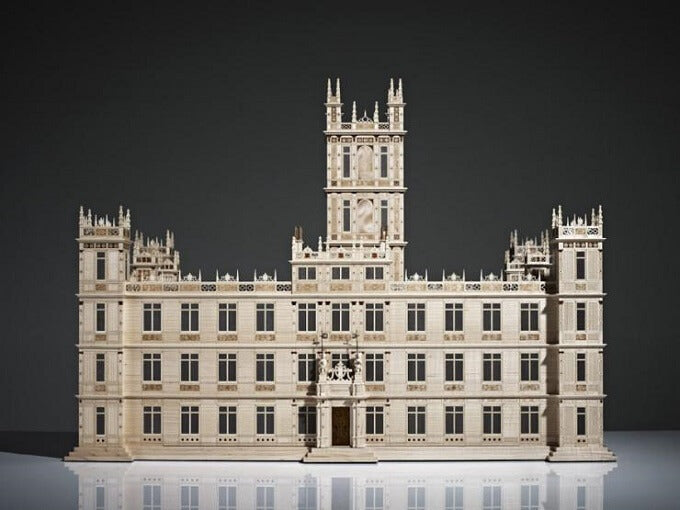 It's constructed with maple, including burr maple, ripple maple and quilted maple details. To complete it took a total of 10,944 pieces of marquery, carefully selected and assembled by their skilled craftsmen. The interiors are lined with faux suede with three main jewelry drawers. It also includes a hidden drawer, which is a signature element of Linley creations. A couple images show a couple drawers, but we'll assume you'll have to shrink down and explore the castle yourself to find the hidden one. It's also limited to 5 editions.
Dottling "Pauline" Jewelry Safe
This elegantly styled but high-tech jewelry safe is from Dottling Safes. Named after company founder Markus Dottling's daughter Pauline, this is their smallest luxury safe. First it features the finest in fittings and finishes to match the designer fashion setting of the room you'd expect to find it in. Behind it is their patented armor plating and multi-functional electronic locking system to resist the most serious of burglars.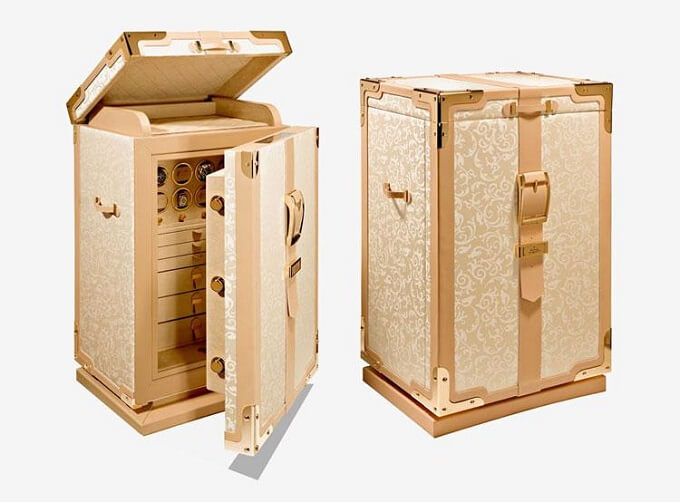 To keep it's luxurious look from being interrupted by it's high-tech security features, a fine leather belt and buckle camouflages the opening system. It also includes a removable portable jewelry case that can be fitted with a GPS tracker. It measures approximately 40" x 21" x 25" and tips the scales at approximately 880 lbs. The exterior and interior trim can be fully customized to materials and colors of your choice. The storage options are also customizable, allowing for different drawers and sizes, designed to hold jewelry, watches, miscellaneous valuables and even guns.