50th Birthday Luxury Jewelry Gift Ideas
She's important to you, she means the world to you - and you want to give her a gift just as amazing as she is. Luxury jewelry is probably one of the gifts that amaze at any age, but when she's hitting a milestone birthday such as 50 years old, isn't it time to really wow her?
Show her gifts that sparkle and shine as she does. Let her know that she's the star in your life and she's priceless. Make her feel like royalty with one of these top choices from our collection of new and vintage designer jewelry.


Louis Vuitton - High Jewelry Diamond White Gold Tennis Bracelet
This absolutely gorgeous tennis bracelet by Louis Vuitton sparkles just like her. With alternating round brilliant cut diamonds, a central Las Ardentes shaped diamond, and baguettes all around in 18k white gold, she will take center stage with this beautiful piece on her wrist.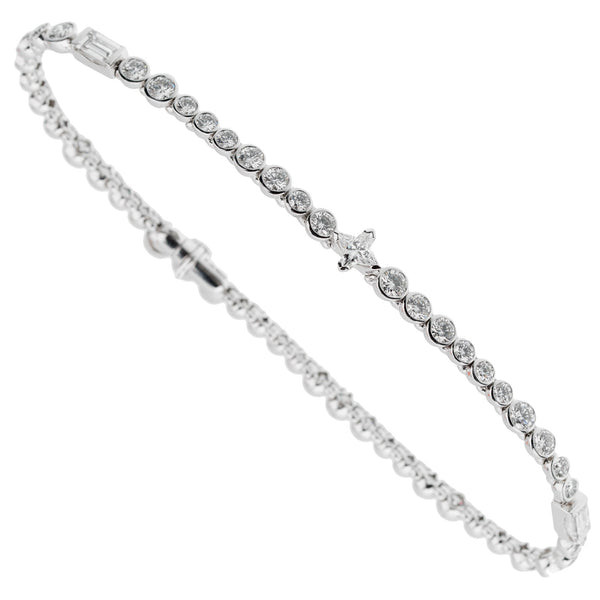 Cartier - Nouvelle Vague Diamond Bypass Gold Ring
Rings make a statement about who we are and where we are going. This Nouvelle Vague Diamond ring does just that. 18k yellow gold with Cartier brilliant-cut round diamonds that total 2.24 ct, there's no denying that she will feel like the belle of her birthday ball showing off this ring.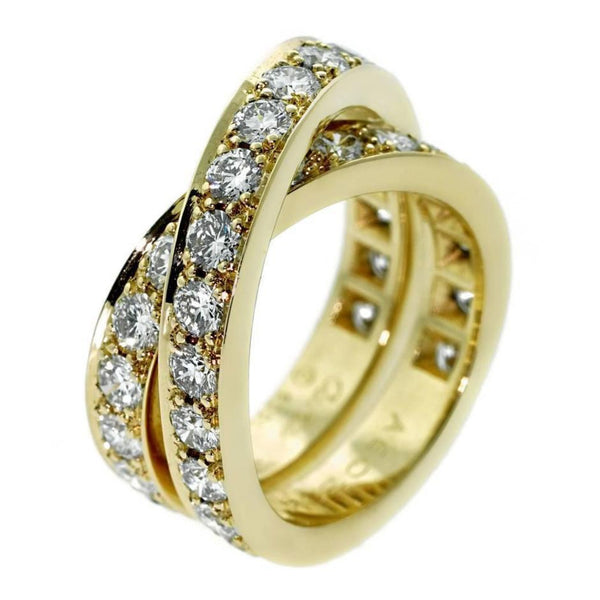 Christian Dior - Green Beryl Diamond Sapphire Yellow Gold Earrings
These sweet earrings with a dragonfly motif will enchant her. With a Green Beryl gemstone and sapphires, dotted with Dior diamonds in brilliant 18k yellow gold, they are what every birthday girl's fantasies are made of as she reaches an age of distinction such as 50.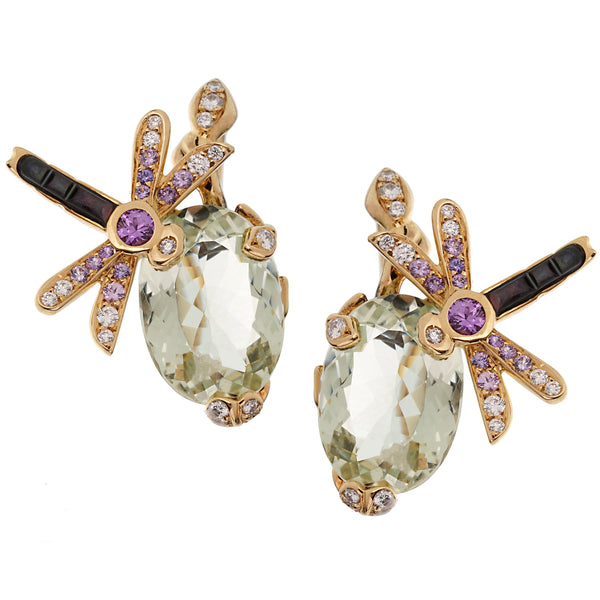 Van Cleef & Arpels - Les Jardins 18k White Gold Tanzanite & Diamond Suite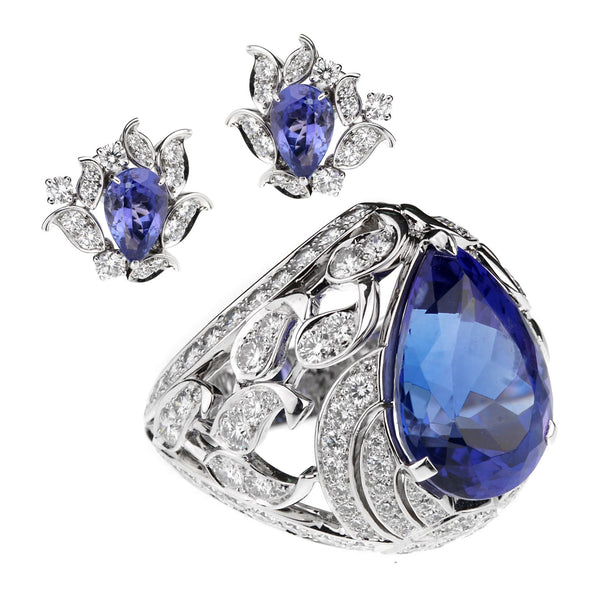 This duo is truly one-of-a-kind creation from Van Cleef & Arpels. A ring and earrings to match, its inspiration to ornamental gardening will thrill her. The beautiful ring is a tanzanite stone surrounded by a delicate design done in 18k white gold with sparkling diamonds throughout the design of the ring, while the earrings feature the same teardrop tanzanite center with the same ornamental designs. This pair is truly one of a kind as only one has been made. 
Reaching the milestone of a 50th birthday is a momentous occasion that calls for a truly special gift. When it comes to memorable and meaningful presents, luxury jewelry stands out as an exquisite choice. The allure and everlasting beauty of jewelry make it a perfect symbol of love, appreciation, and celebration. Let us explore why gifting luxury jewelry for a 50th birthday is an exceptional idea.
Enduring Elegance: Luxury jewelry is crafted with meticulous attention to detail, using the finest materials and exquisite designs. Whether it's a stunning diamond necklace, an elegant pair of earrings, or a timeless bracelet, these pieces embody enduring elegance. They serve as a reminder of cherished memories and become heirlooms that can be passed down through generations.

Symbolic Significance: Jewelry carries profound symbolism. A 50th birthday marks a half-century of life, wisdom, and accomplishments. Gifting jewelry on this occasion signifies a celebration of achievements, milestones, and the continued journey ahead. It's a testament to the recipient's strength, beauty, and resilience.

Personalized Expression: Luxury jewelry offers a wide range of styles, allowing you to select something that perfectly aligns with the recipient's taste and personality. From modern designs to vintage classics, each piece can be chosen to reflect their unique style, making it a personalized and heartfelt gift.

Unforgettable Memories: Jewelry has the remarkable power to evoke emotions and create lasting memories. Whenever the recipient adorns their luxury jewelry, they will be reminded of the special occasion and the person who gifted it. It becomes a wearable keepsake, etching the moment in their hearts forever.

Investment in Quality: Luxury jewelry is crafted with precision and made to stand the test of time. It represents an investment in quality and craftsmanship. Its enduring value ensures that it not only brings joy to the recipient but also holds its monetary worth over the years.
As you celebrate a loved one's 50th birthday, the gift of luxury jewelry encapsulates the essence of the occasion with its timeless elegance, symbolic significance, and personalized expression. This exceptional gift choice creates unforgettable memories and serves as a testament to the recipient's journey through life. By gifting luxury jewelry, you are not only honoring the milestone but also expressing your deep affection and appreciation. Let their 50th birthday shine even brighter with the radiance of exquisite jewelry.
These are just a few of the items that we offer at Opulent Jewelers. We carry some of the world's finest collections for her and him. 50 only comes around once in a lifetime, why not fill it with a gift piece from our collection? We offer the most brilliant jewelry from the best designers around the world for you to enjoy. Please visit us at opulentjewelers.com and take a look at the many items we have to offer for birthdays and beyond.